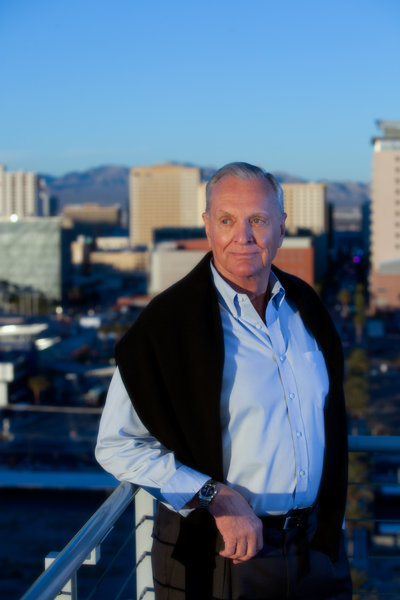 Richard Goeglein is a seasoned business executive who has led high-growth billion-dollar companies through mergers, acquisitions and divestitures. Along with his extensive experience in the US casino and hospitality industries, he has also worked internationally in consumer services and products sector. In each role, his astute business sense and good judgment have generated value and earned him a reputation as a natural leader.
Mr. Goeglein is currently Chairman of the Board of Pinnacle Entertainment, a NYSE listed company (PNK) with over a billion dollars of annual revenue. He honed his expertise in the casino and hospitality industries while at Holiday Inns, Inc. As EVP, Director and a member of Office of the President, he led the team that acquired Harrah's and became its CEO while also retaining his position at Holiday. During his five years as CEO of Harrah's, he led its rapid expansion, thereby creating the world's largest gaming company and delivering over half of Holiday Corporation's worldwide net income. Mr. Goeglein subsequently became President, COO and a Director of Holiday Corporation, the parent corporation of not only of Harrah's Hotels and Casinos, but also of Holiday Inns, Embassy Suites, Residence Inns, Hampton Inns, Crown Plazas, and Homewood Suites.
In his roles at Holiday, Mr. Goeglein oversaw many high-value acquisitions, mergers and divestitures. After his tenure there, he went on to develop and manage a variety of projects within the casino and hospitality industries, including the closure of The Dunes in Las Vegas and its sale to Mirage and the creation and operation of Sky Ute Lodge and Casino in Colorado. He served as President and Chief Executive of Aladdin Gaming Holdings and Aladdin Gaming LLC, where he was instrumental in securing $600 million in financing, forming the operating team, and building and opening the 2700-guestroom resort. Additionally, Mr. Goeglein became active in remedial management and turn-around activities, including the restructuring and repositioning of Dakin, one of the largest plush toy companies in the world.
Before joining Holiday, Mr. Goeglein served as CEO of several restaurant companies. As Chairman and CEO of Hungry Tiger Restaurants, he doubled the size of the company and led its successful IPO. Separately, he successfully combined the Orange Julius, Love's Family Restaurants, Original House of Pies and Will Wright's Ice Cream chains to form Uniworld Foods, Inc., a key subsidiary of the NYSE-listed International Industries, Inc. At W.R. Grace & Co., headquartered in New York City, Mr. Goeglein was Corporate VP and the COO of the Consumer Services and Products Group, which operated 57 businesses in the United States, the Republic of Ireland, the United Kingdom, Europe, and the Far East and generated $1.6 billion in revenue.
Currently, he is a faculty and teaching member for the National Association of Corporate Directors and a member of the Advisory Board and Vice Chairman of The Board of Veteran CEOs, and serves as a trustee on the Board of Volunteers in Medicine of Southern Nevada, a 503C non-profit. Mr. Goeglein has previously served as a director of the following organizations: AST Research; Platinum Software; Boomtown, Inc.; Hollywood Park; Holiday Corporation; Harrah's Hotels and Casinos; Residence Inns; Harrah's College of Hotel Administration at University of Nevada, Las Vegas; the Sammy Davis Jr. National Liver Institute; the Gaming Oversight Committee for Marriott Lodging International and the Culinary Institute of America, where he remains a Fellow.
He holds an MBA from Stanford University and a B.S. from the University of Wyoming. He completed the Director Education and Certification Program at the UCLA Anderson Graduate School of Management.
2012* Richard Goeglein Speaking and Webinar Facilitation Schedule
June   27: GLG Consulting – Casino Industry Roundtable Leader
October 5: G2E  Mentoring in the Gaming Industry,  Panelist
November 8 – 9: USC Summit:  Board Succession:  Worthy to Serve – Exit with Honor & Dignity
November 18 – 19: History of Gaming – Las Vegas Past, Present and Future  – Sammy Corporation, Tokyo, Japan
NACD (National Association of Corporate Directors) Webinars Facilitated
January 24: Board Pay Preview: 2011/12 NACD Director Compensation Study
March 8: Putting the Final Touches on Your CD&A
May 15: What the Second Generation of Say on Pay Proxies Tells Us
August 7: Executive Equity Overkill:  How Much Is Too Much?
November 15: Change-in-Control Programs:  In the Eye of the Storm
December 11: ISS Proposed Policy Changes:  Implications for 2013
NACD Panel Participation
March12-13: Master Class:  Compensation Strategies – Incentives and Optics
Compensation Committee Deep Dive
August 19-21: Master Class:  Building Better Board
Board of Veteran CEOs New York City
April 27: Vice Chairman and Co-Facilitator
June 22: Vice Chairman and Co-Facilitator
September 21: Vice Chairman and Co-Facilitator
*This list is published retrospectively.
All presentations are member-only or client sponsored events and not open to the general public.